Rotary Club honors SWU president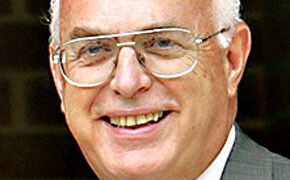 The Clemson Rotary Club recently saluted Southern Wesleyan University's president David Spittal for his professional excellence.
The Rotary Centennial Service Award for Professional Excellence was presented to Dr. Spittal at a Clemson Rotary luncheon meeting on April 18 and reads, "In recognition of professional achievement, demonstrated high ethical standards, community and vocational service, and dedication to the concept of Service Above Self."
The award is part of Rotary's centennial year, 2004-05, and was presented by Carol Burdette, assistant governor for Area 1 of Rotary's District 7750. Burdette is mayor of Pendleton and a graduate of Southern Wesleyan University.
Area 1 includes the Anderson, Clemson, Clemson-Calhoun, Electric City and Greater Anderson clubs. The award was signed by Glenn Estess, Rotary president; and William Boyd, district governor for District 7750.
Spittal was one of 10 Rotary members in South Carolina to receive the professional excellence award.