S.C. guidance counselor bus tour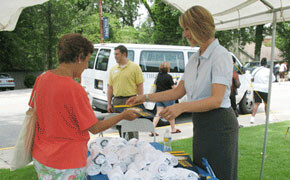 Amanda Young, SWU director of admissions, gives out shirts to participants in the SCICU Annual Guidance Counselor Bus Tour. In the background is Phillip Fritts, admissions counselor.
On June 18, the South Carolina Independent Colleges and Universities Annual Guidance Counselor Bus Tour pulled into SWU for a glimpse of campus. Fifty-three guidance counselors from across the state enjoyed a special lunch prepared by Chef Karl Ekberg and his staff as the Admissions Office welcomed this group to campus. After a warm welcome by Joy Bryant and Dr. David Spittal, guidance counselors had an opportunity to ask questions about services and programs available to SWU students at a departmental fair in Founders' Hall. Before departing campus, the counselors took tours of campus and received SWU shirts as well as SWU pennants to take back to their high schools.