Servant Leadership Institute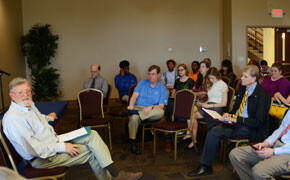 Don Schaupp, left, retired computer science professor and a good neighbor of the Central campus, shared about The Potter's Place in his keynote address at the Servant Leadership Institute Feb. 21 at SWU.
SWU Student Life hosted a Servant Leadership Institute this past Friday. According to Justin Carter, AVP for Student Life, the event was an "amazing" opportunity to enhance the leadership potential of current and future student leaders. There were also sessions devoted to community engagement and other topics.