SIFE team competes at regionals in N.C.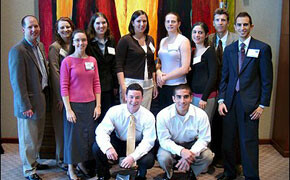 Southern Wesleyan University SIFE representatives are, from left, Business School Dean Jeff Moore, Misty Bryant, Elizabeth Stephens, Stephanie McLees, Sara Masters, Savanna Parnel, Marina Barcaglioni, Economics and Finance Professor Miren Ivankovic and Jeremy Palomo. On the front row are Justin Maner, left, and Chris Boccanegra.
The Southern Wesleyan University Students In Free Enterprise (Team returned to Central after participating in the Charlotte, N.C., SIFE USA Regional Competition on April 3.
The event was one of 21 SIFE USA Regional Competitions being held across the United States in April. After presenting a report of their yearlong community outreach projects to a panel of business leaders, the Southern Wesleyan University SIFE team was recognized for their dedication to SIFE mission.
"I am very proud of our students and their commitment to SIFE-related projects. These projects are pretty much additional activities, beyond their academic/athletic demands, and very time consuming," said Miren Ivankovic, associate professor of economics and finance at SWU. "We represented our university and our community well in Charlotte."
Ivankovic and Dr. Jeff Moore, dean of the School of Business, accompanied the students on the trip.
Southern Wesleyan University students who participated in the SIFE competition included Misty Bryant of Liberty, a business administration major; Elizabeth Stephens of Anderson, accounting; Stephanie McLees of Westminster, business administration; Sara Masters of Six Mile, accounting; Savanna Parnel of Sumter, business administration; Marina Barcaglioni of Pendleton, math; Jeremy Palomo of Juncos, Puerto Rico, business administration; Justin Maner of North Charleston, business administration; and Chris Boccanegra of Chapel Hill, N.C., business administration.
SIFE is an international non-profit organization active on more than 1,800 university campuses in more than 40 countries. SIFE teams create economic opportunities in their communities by organizing outreach projects that teach market economics, entrepreneurship, personal financial success skills and business ethics. Their projects are judged at competition on creativity, innovation and effectiveness.
During this academic year, the Southern Wesleyan University SIFE Team organized a number of projects in the Central, S.C., community and beyond, including holding a road race to raise funds for the university's missionary travels, participating in Habitat for Humanity activities and providing financial education for elementary school students. Also, SIFE students were involved with Hurricane Katrina relief efforts, cleaning of the SWU campus and a number of other activities.
"SIFE experience is great," said Jeremy Palomo, a SWU student and SIFE team member. "We can use our academic skills and apply them through local projects while still in school. A lot of people benefit from those activities.