Sigma Tau Delta inducts four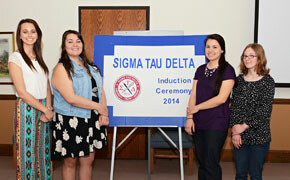 Four Southern Wesleyan University juniors were inducted into Sigma Tau Delta during a ceremony March 20 at the university's Central campus.
The new inductees, from left, are Anna Bross of Franklin, N.C.; Victoria Hunter of Davidson, N.C.; Tori Wanner of Lexington; and Michelle Cison (not pictured) of Easley. Also pictured is Jenna Doud, of Valrico, Fla., right, named as president of Southern Wesleyan's chapter.
The new inductees joined Dr. Ben Xie, associate professor of English and chapter sponsor, and affirmed the motto in their declaration of the international pledge. Dr. Kenneth Myers, chair of the Humanities Division, congratulated the new inductees. Sigma Tau Delta is an international English honor society with more than 800 chapters around the world.