Sign of accomplishment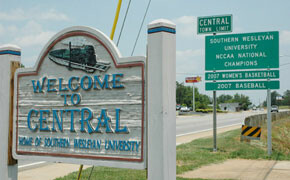 Southern Wesleyan University's athletic accomplishments are noted on three new signs posted near the town limits of Central.
The sign above, posted near the Town of Central's welcome sign on S.C. Highway 93, salutes Southern Wesleyan University as NCCAA national champions for 2007 women's basketball and 2007 men's baseball. Central Town Administrator Phillip Mishoe and S.C. Sen. Larry Martin were instrumental in having the new signs created and posted.