Sock puppets take the stage at SWU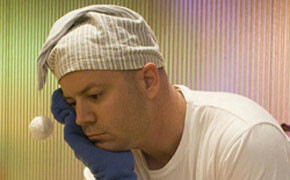 Actor and playwright Steve Hoffmann
How do you write a reality show about sock puppets when sock puppets aren't real?
The Gillerds Show will be presented July 11 at 7 p.m. in Folger Fine Arts Auditorium on the university's campus in Central. Admission is free. The one-man-show will be performed by Steve Hoffmann, graphic designer at Southern Wesleyan University. Hoffmann is also the author of the one-act autobiographical comedy.
"In essence, The Gillerds Show is an autobiographical, fictional account of my life and how God wrote himself into my life as Jesus to show me who I am," Hoffmann said. "It illustrates the tragedy and ultimate hilarity of trying to manufacture a character for oneself outside of God's direction."
Hoffmann cites Jeremiah 2:5 as a source of inspiration for his play: "What fault did your fathers find in me, that they strayed so far from me? They followed worthless idols and became worthless themselves."
The Gillerds Show promises laughter and an affirming message.