Softball clinches spot in SSAC Tournament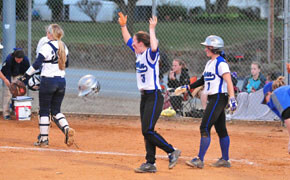 The Southern Wesleyan softball team will be competing at the Southern States Athletic Conference this week after clinching a spot on Monday afternoon.
The Warriors finished play on Friday but got in when Coastal Georgia lost to Brenau on Monday in a makeup of a rained out game from earlier this year. Both SWU and Coastal finished SSAC play at 8-20 and the teams split four meetings this year. The Warriors hold the tiebreaker with a 1-3 record against Brenau who is the two seed, the Mariners went 0-4 against the Golden Tigers this year.
The Warriors will open the tournament as the 5th seed out of the east division and will play the four seed from the west, Mobile. The Rams finished the year 25-21 overall and 17-11 in the SSAC. Mobile won both meetings earlier this year in Mobile, 8-1 and 2-0.
The tournament gets started on Thursday at 10 a.m. central time with the Warriors and Rams. The double-elimination tournament is being held in Gulf Shores, Ala.
Click here for more SWU athletics