Sounds of the Season at Southern Wesleyan University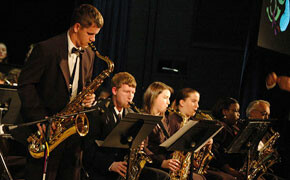 Southern Wesleyan University students perform holiday tunes with a swingin' style.
Southern Wesleyan University student Ben Garrison performs a saxophone solo during "Sounds of the Season," presented by the university's Fine Arts Division and featuring student, faculty, staff and guest musicians. Seated beside Garrison, from left, are Kent Ellison, a SWU staff member; students Hannah Chapman, Leah Chapman and Jewel Clark; and guest performer Dale Linville. The brass, wind and jazz ensembles presented Christmas favorites in styles ranging from jazz to traditional Dec. 3 at Folger Fine Arts Auditorium on Southern Wesleyan's campus in Central.