Southern Wesleyan equips servant leaders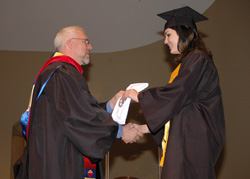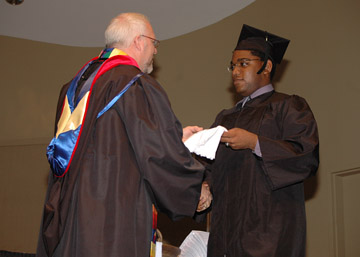 Southern Wesleyan University held its semester-end Baccalaureate Chapel on May 6 at 10 a.m. in Newton Hobson Chapel and Fine Arts Center on the university's campus in Central. The university's Baccalaureate Chapel includes a "Ceremony of the Servants" and a challenge for graduates of the university to find ways to serve the needs of others throughout the world. Above left, Chandra Walls of Greer, S.C., an honors psychology major receives a servant towel from Rev. Ken Dill, associate vice president for spiritual life and university chaplain. Above right, Cliffton Hicks of Central, S.C., a specialized major in computation, receives a servant towel from Dill.
The baccalaureate sermon was delivered by Rev. Rodney Addison, pastor of West Town Community Church in Augusta, Ga. He serves as a member of the district board of administration for the South Coastal District of The Wesleyan Church and has served as chaplain for the university's North Augusta learning center. After his sermon, Rev. Addison was awarded the prestigious Virgil A. Mitchell Award for Excellence in Pastoral Ministry, a recognition that honors an outstanding pastor in The Wesleyan Church.