Southern Wesleyan helping student return to homeland 20 years after fleeing war-ravaged village as child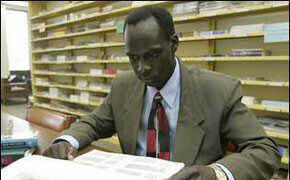 Abraham Deng looks over reference material at the library on the campus of Southern Wesleyan University, where he is studying pre-med. Photographer: PATRICK COLLARD/Staff-The Greenville News
CENTRAL -- The last time Abraham Deng saw his mother, he was 6 years old and running for his life after his war-torn village in Sudan was attacked in 1987. Nearly 20 years later, the Southern Wesleyan University pre-med student has learned that although his father was killed, his mother and four siblings survived the attack.
His dream is to travel to a refugee camp 8,000 miles away in western Ethiopia where his family is living and greet them face to face. Friends at Southern Wesleyan have launched a fund-raising campaign to make Deng's dream come true this summer.
Every dollar contributed brings Abraham one mile closer to his destination, said Kelley Tegen, a friend at the school.
"We knew that the resources were available, and it was possible," Tegen said. "I love my family so much, and I wanted him to be able to see his."
It was through another member of his tribe who eventually came to the United States that Deng learned his mother survived.
He's spoken with her on the phone four times, and they exchanged pictures. Although her face is younger in his memory, he had no problem recognizing her. But poor nutrition and disease have taken a toll.
His mother has typhoid and a brother has malaria, he said.
"A lot of people are suffering. There is poor sanitation. They don't have good drinking water," Deng said.
The $8,000 fund-raising goal will pay for Deng's travel and enable him to bring medicine and food with him to help not only his family, but many others at the refugee camp, which is home to roughly 32,000 people.
One of the Lost Boys of Sudan, Deng's childhood exodus took him to a series of refugee camps, and eventually, through the kindness of United Nations workers, he came to the United States to continue his education.
"God kept my life in incidences that would have claimed my life. Not only will I see my family, but I will give encouragement to the refugees there. I think this is God's plan for me to do," Deng said.
Now, studying on the small Christian campus, he plans to become a doctor and return to his homeland to help people there.
"We believe in him with all our hearts and want to see him succeed," Tegen said. "We are all rallying around him to help him help other people."
Abraham won't go home alone. His cousin, also one of the Lost Boys, is in school in Atlanta and will go with him. The two young men, who traveled to the United States through the Lost Boys Foundation, pledged not to return to their homeland without each other.