Southern Wesleyan holds baseball camps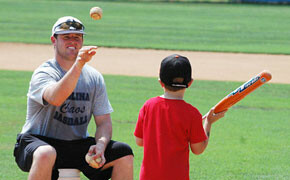 Bobby Curtis throws a pitch to a young ballplayer during a baseball camp at Southern Wesleyan University in Central. The Southern Wesleyan University summer camp series includes baseball, basketball and soccer.
Curtis is a first and third-baseman for the Carolina Chaos, who, along with members of the Warriors, shared their baseball expertise. Southern Wesleyan is hosting several budding athletes during its sports camps in June at Dr. C. Keith Connor field. The camp staff is led by SWU baseball coach Mike Gillespie. The Chaos is a Summer Collegiate Baseball League team that plays at SWU.