Southern Wesleyan homecoming connects, reconnects alumni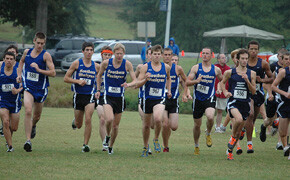 Cross country runners from across the region compete during the 2009 Warrior Invitational, held each year during homecoming at Southern Wesleyan University. Pictured is the start of the men's cross country race.
Southern Wesleyan University invites alumni to come together, make new connections and rekindle some old connections Sept. 25 for its 2010 Homecoming celebration on the campus in Central.
"We would like to welcome the public to join us as Southern Wesleyan University celebrates our homecoming," said Joy Bryant, director of alumni and constituent relations. During homecoming, Southern Wesleyan's campus will come alive with a full day of events for alumni and their families, including individual class reunions, music, fun and games and a chance to cheer on the Warriors at a variety of athletic competitions.
At the start of the day, the Welcome Tent will open at 8:15 a.m. in Front of Claude R. Rickman Library. If you're among the first 50 families to check in, you'll receive a special gift.
The Warrior Invitational cross country meets will start in front of the Clayton Welcome Center with the women's cross country meet starting at 9 a.m., followed by the men's cross country meet, starting at 9:45 a.m.
Other homecoming activities during the morning will include convocation at Folger Fine Arts Auditorium at 9 a.m. Then, at Newton Hobson Chapel and Fine Arts Center, the university will unveil its new media communications classroom with a ribbon-cutting ceremony at 10:30 a.m. Next, at 11:30 a.m., a "Connections" chapel at Newton Hobson Chapel will pay tribute to those who left a lasting legacy at Southern Wesleyan.
Lunch will be served from noon until 2 p.m. at the University Dining Commons and reunion lunches will take place as well. Reservations are required for the reunion luncheons.
At 2 p.m., enjoy the Reunion Finale, as alumni talent from across the decades take the stage at Newton Hobson and the homecoming king and queen will be crowned.

From 3 until 5 p.m. the young and young at heart can connect with fun, inflatable activities on campus.
At 1 p.m., the Lady Warriors Volleyball Team will play Brenau University at Tysinger Gymnasium.
At 3 p.m. the Lady Warriors Soccer Team will play Faulkner University and at 5 p.m. the Warriors will play North Greenville University. Both soccer games will take place at Childs Soccer Field.
From 4 until 7 p.m., there will be a barbecue dinner at Bryant Lodge, across from the soccer field. At that time, there will also be an open buffet across campus at the University Dining Commons.
For details or to register, call the Southern Wesleyan University Alumni Center at 1-800-282-8798, ext. 5384, or (864) 644-5384 or e-mail . Click here for a complete schedule.