Southern Wesleyan hosts 100 Year Reunion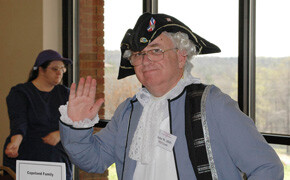 John "Bill" McGraw of Clemson was decked out in colonial garb for last year's 100-Year Reunion.
Southern Wesleyan University will host the second annual 100 Year Reunion of the Families of the Old Pendleton District from 10 a.m. until 5 p.m. Saturday, March 26 at Founders' Hall on the campus in Central.
The event will include display tables for local families, special presentations, guest speakers, work sessions and more. The Old Pendleton District encompasses present-day Anderson, Oconee and Pickens counties of South Carolina. This event is sponsored by the Birchwood Center for Arts and Folklife, along with Southern Wesleyan University, the Old Pendleton District Genealogical Society, the Pickens County Historical Society, the Pickens County Museum of Art and History, the Central Heritage Society and the Pendleton Historic Commission. For details, call the Birchwood Center at 898-0840 or email .