Southern Wesleyan hosts career workshop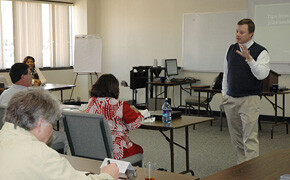 Dr. Russ Merritt, regional director of Southern Wesleyan University in North Augusta, welcomed participants during a free career workshop Feb. 20 at the university's location in North Augusta..
Workshop participants learned about qualities recruiters are seeking among job candidates. They also received information on how to stand out in a job interview. For details on degrees offered by Southern Wesleyan in North Augusta, call (803) 426-7981, ext. 5646, by .