Southern Wesleyan students get a taste of community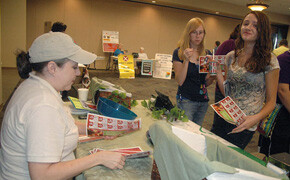 Southern Wesleyan University student Chelsi Stevenson, right, a freshman from Whitmire, picks up a sheet of coupons from Marcia Smith, left, owner of Pizza Pro in Central, while Kim Moore, a freshman from Effingham, samples a free cinnamon stick during a community fair Aug. 16 in Founders' Hall on the campus in Central.
After the first day of fall classes, Southern Wesleyan students learned about area businesses and organizations, registered for prize giveaways and sampled goodies from area restaurants. Vendors made donations to Camp Hope, located in Clemson, which is dedicated to people with special needs and their families.