Southern Wesleyan to dedicate organ at free concert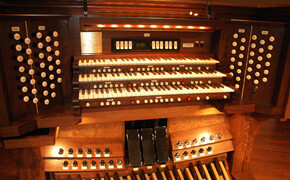 When Southern Wesleyan University dedicated its Newton Hobson Chapel and Fine Arts Center in 2008, one significant addition was still needed. Thanks to a generous gift of the late Dr. Lowell Jennings, his family and others, the university will welcome a new organ with a dedication concert at 7:30 p.m., Saturday, April 30, in the Newton Hobson Chapel on the campus in Central.
"Many people have contributed to the purchase and installation of this special instrument over several years, and this concert is a celebration of the completion of this project," said Melanie Gibson Rowell, Southern Wesleyan music professor. The Cornel Zimmer Organ Company, designer and builder of the new organ, specializes in instruments of the highest quality, durability and dependability.
"The all-digital custom organ will provide the university chapel with an appropriate instrument for major events, as well as for use in campus worship," said Rev. James Wiggins, vice president for development.
The concert will feature organists Jane Palmer Dill and Nathan Bryson as well as the university Concert Choir. The concert is free and open to the public. For details, call (864) 644-5404.