Southern Wesleyan University professor receives Excellence in Teaching Award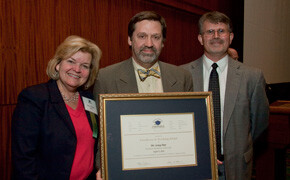 Sara Fisher, left, chair of the South Carolina Independent Colleges and Universities board of trustees, presents the 2011 SCICU Excellence in Teaching Award to Greg Day, center, music professor at Southern Wesleyan University. Representing Southern Wesleyan University's administration, right, is Daryl Couch, associate vice president of planning and assessment.
Faculty from 20 private colleges were recognized for their dedication to teaching and learning by SCICU at their sixth annual Excellence in Teaching Awards Dinner April 5 in Columbia. The ceremony was part of South Carolina Independent College and University Week.