Southern Wesleyan University Unveils Athletic Logo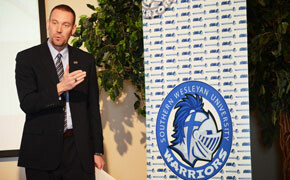 Southern Wesleyan University Athletic Director Chris Williams unveils a new logo for the Warriors during a news conference Jan. 23 at the Central campus. According to Williams, the helmet signifies strength and character, as well as the university's Christ-centered focus.
The Southern Wesleyan University Department of Athletics is pleased to announce and showcase the new Warrior Athletics logo for use in all the athletic programs and throughout the campus community.
"We are thankful to have this process concluded, so that we are able to continue to push forward in our move to the NCAA," commented SWU Director of Athletics Chris Williams.
"We wanted to make sure that we honored our past, but also show that we are moving our university even closer to a 'One Body' theme."
After an extensive research and development process that included an on-campus committee, a branding firm, and then coming back to the SWU marketing team, the new Warriors logo emphasizes a cross located on a helmet. The cross is the symbol that is to always be associated with SWU and the Christ-centered focus.
"We are Warriors for Christ in all that we do," continued Williams. "The helmet signifies strength and character, while the cross will always be our guide here at SWU."
SWU is making application to the NCAA on Feb. 1 and has received conference sponsorship from Conference Carolinas, a NCAA Division II conference.
Southern Wesleyan University is a Christ-centered, student-focused learning community devoted to transforming lives by challenging students to be dedicated scholars and servant-leaders who impact the world for Christ.