Spiritual Emphasis Week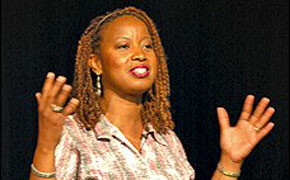 Spiritual Emphasis speaker, Dr. Brenda Salter McNeil.
Southern Wesleyan University's featured leader for its week of spiritual emphasis, beginning Sept. 10, was Dr. Brenda Salter McNeil of Chicago, an expert in the area of racial and ethnic reconciliation. She is an author, consultant and leadership trainer whose biblically-based messages are designed to raise awareness, ignite vision and inspire action. Near the beginning of each semester, a time of spiritual emphasis is conducted at Southern Wesleyan University. Services provide for spiritual examination and growth. The university's main campus is in Central, with additional locations in Greenville, Columbia, North Augusta and Charleston.