Splish Splash! Homecoming at SWU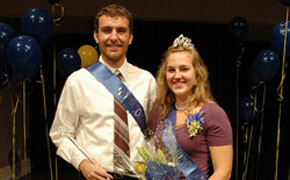 SWU crowned Eric Cromer and Lauryl Brisson as homecoming king and queen during its homecoming celebration Sept. 26 at Central, S.C. Cromer is a senior from Temperance, Mich., majoring in pre-med and dentistry. Brisson is a junior from Portsmouth, Va., majoring in psychology.
Southern Wesleyan University hosted Homecoming Sept. 25 and 26 at its campus in Central, S.C. This past Saturday's rainfall prompted the homecoming court to move into the auditorium at Newton Hobson Chapel and Fine Arts Center.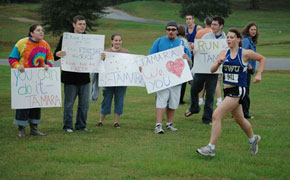 Southern Wesleyan University cross country runner Tamara Lowery was cheered on by her enthusiastic fans during the women's cross country race, part of homecoming festivities Sept. 25 and 26 at Southern Wesleyan University in Central, S.C. They were followed by the Warriors' men's cross country team. Warrior fans also enjoyed a volleyball match and women's soccer during the festivities.