Student service project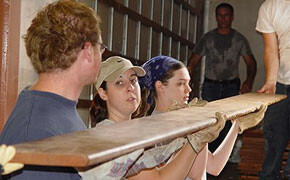 Southern Wesleyan University students, from left, Tim Walters of Vinton, Va.; Megan Woodworth of Hanwell, New Brunswick, Canada; and Tiffany Connor of Central unload bleacher seats from a van.
The students were part of a Southern Wesleyan group working on a community service project to disassemble a bleacher system from a Catholic high school in downtown Macon, Ga., and relocate it to Hephzibah Children's Home in Macon for installation in its new gymnasium. Walters is a music education major, Woodworth is majoring in music and psychology and Connor is a religion major.