Summer Baseball Camps at SWU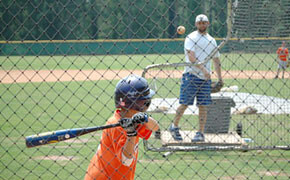 A young slugger focuses on Justin McKim's pitch during a summer baseball camp held at SWU. McKim is an assistant baseball coach Southern Wesleyan University.
Youngsters ages 5-14 sharpened their skills in hitting, pitching, fielding and other general baseball skills during the camps, which were held in June. The camp staff, led by SWU baseball coach Mike Gillespie, consisted of members of the Warriors team, as well as the Carolina Chaos, a Summer Collegiate Baseball League team that plays at SWU. More than 50 young players participated in hitting and pitching clinics and about 30 took part in the general skills camps.