Summer Jazz Camp brings rhythm, blues to Upstate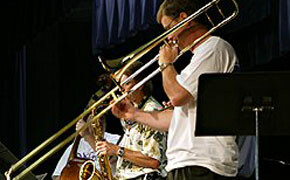 Jazz students will work with some of the music industry's top jazz performers and educators this summer at Southern Wesleyan University.
The SWU Summer Jazz Camp 2005 will be June 7-11 providing students a quiet, relaxed and non-competitive environment for exploring their jazz abilities on the university's campus in Central.
Headlining the camp's staff will be Pat Harbison, director of jazz at Indiana University. Harbison is a trumpet player, author of several books on jazz and trumpet, and a recording artist with several outstanding jazz CD's in print.

Rick Simerly, jazz trombone and recording artist will also be on the staff, along with bassist Tom Hildreth and saxophone/clarinet artist Doug Henry, both from Charlotte, N.C.
Piano player and music industry executive Larry Day from Nashville will handle the keyboard responsibilities, while guitar artist and instructor Bruce Helgeson will be the guitar instructor and rhythm section coach. Drum set will be taught and performed by Duane Malphrus of Greenville, a local legend in the jazz scene.

All the instructors come together to offer an opportunity for students of jazz to explore the area of improvisation through performance in small combo work. Each student will be placed into a combo of their ability, and will work very closely with the staff to develop the skills, theory and mentality associated with jazz performance. Daily faculty performances will compliment daily student performances, and an end-of-the-week concert for friends and family on Saturday rounds out the week. Basketball, tennis, ping pong, pool and jam sessions will give students a chance to relax during the day and resident campers will have air conditioned on-campus rooms and will be supervised by adult and student staff.

The fees for the full resident camp are $250 and cover all housing, food and expenses. Registration for this summer activity is open through May 27. For details, contact Greg Day at Southern Wesleyan University at (864) 644-5295 or .