SWU Alum named Harvard Hero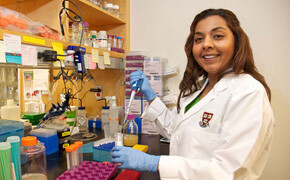 Rupal Shah, a Southern Wesleyan University graduate, was honored by Harvard University as one of the Harvard Heroes in an awards ceremony held June 5 at Harvard University.
Harvard Heroes was introduced in 1995 to recognize the significant contributions of high-performing staff members in contributing to the university's standards of excellence.
Shah, who manages the Fortune Laboratory at Harvard School of Public Health, feels that the leadership and communication skills she gained as a student at Southern Wesleyan University were key factors that helped her to move into the management position a year ago. Working with the university's Rotaract Club chapter and the Student Activities Committee of the Student Government Association taught Shah about leadership and fundraising. Serving as the Junior class treasurer for the Student Government Associated also helped her gain skills essential to managing and organizing teams.
Shah was the first graduate in SWU's Honors Program, receiving a biology and chemistry degree in 2004. She went on to earn a master's degree in microbiology at Clemson. After that, Shah started working at Harvard University's School of Public Health in the Department of Immunology and Infectious Diseases. In 2010, SWU's Alumni Association honored her with a Young Leader Award.
"Your passion for excellence shows in all you do," said Harvard University's President Drew Faust in the presentation ceremony. "Your warmth and deep concern for others are infectious too. You carry a superhuman workload and volunteer at home and abroad. If caring is contagious, Harvard is a much better place for having you here."
"I've enjoyed organizing teams, conducting research, and having a leadership role in the lab," Shah said. Her long-term goal is to enter medical school someday, specializing in family medicine.
"I enjoy basic science research but I like being around patients too," said Shah, who regularly volunteers at a hospice care facility in Boston.
"My desire to pursue medicine began at SWU – that's always been my dream," Shah said, adding that she hopes to return to South Carolina someday to practice medicine.