SWU alumna grateful for lasting servant leadership lessons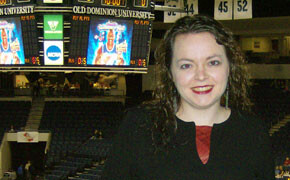 By the time she reached her senior year at Southern Wesleyan University, Laura Oliver decided that she was finished with education.
But one night she watched Southern Wesleyan University Fine Arts Department Chair Jane Dill performing a piano recital and was enthralled by her performance.

"I knew it wouldn't be music, but I wanted to feel like I had something that I had studied to the point of exhaustion and then studied some more," said Oliver, who developed a keen interest in leadership training.

"No matter how much I study leadership, I will never scratch the surface in understanding how it works or its limitless influence," Oliver said.

Oliver developed a passion for servant leadership while earning her undergraduate degree from Southern Wesleyan University and credits Southern Wesleyan staff members for both mentoring and demonstrating servant leadership principles. Whether it meant dragging heavy suitcases up several flights of stairs for friends or making sure there was enough ice for a social function, she learned to look at such mundane tasks as steps in her leadership development.

Oliver graduated from Southern Wesleyan in 2000 a degree in business administration.

She currently divides her work time between managing administrative staff for a nationwide construction company and teaching voice to the next generation. Oliver also publishes a blog about frugal living, www.afrugalchick.com, which involves regular work with local television and radio stations.

Oliver also developed a love for acting while taking part in a Southern Wesleyan production of "Fiddler on The Roof." She continues to perform, having sung the national anthem at various local sporting events. She also leads worship in her home church and participates in community theater productions.

Now that she has finished her master's degree in organizational leadership at Gonzaga University in Spokane, Wash., Oliver's desire is to move into the arts and work on the management side, preferably in theatre.