SWU Commissions Business Students, Starts HR Club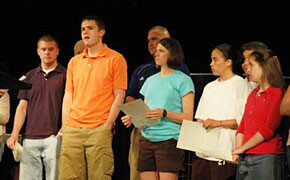 SWU business students scheduled for graduation on May 12 receive a commission to pursue Christ-centered careers at a recent ceremony as business professors look on. From left are Kevin Moses of Belmont, N.C., accounting and business administration major; West Partin of Walhalla, accounting and business administration; Savannah Parnell of Sumter, business administration and sports management; Jessica DelCastillo of Columbia, an accounting major; and Elisabeth Stephens of Anderson, an accounting major.
Community, service and smart business students were applauded at a recent Southern Wesleyan University ceremony.

Students, professors and supporters of Southern Wesleyan's School of Business gathered May 24 to congratulate seniors as they approach graduation and to award honors.

"We're excited about the opportunities God has given us here," said Jeff Moore, dean of the university's School of Business.

The business school's Investment Club presented plaques to members of the university's women's basketball team – winners of the 2006-07 NCCAA National Championship. The plaques were purchased with funds from the club's successful investments.

The School of Business also recognized Easley Custom Plastics with an Outstanding Community Award. ECP has served as a university business partner, sponsor and source of internships during the school year.

Accounting students receiving the James Bowen Excellence in Accounting award for outstanding academics were Lisa Barkley of Pickens, an accounting major; Danae Cleveland of Liberty, accounting; and Brett Barton of Townville, accounting and business administration.

Recipients of the Outstanding Business Student of the Year awards were Marina Barcaglioni of Mendoza, Argentina, an accounting and mathematical sciences major, and Kyle Blackwell of Westminster, accounting and business administration.

The ceremony was also an opportunity to announce the formation of a new Southern Wesleyan University club for human resources majors.

Don Karns, chair of college relations for the South Carolina branch of the Society for Human Resource Management, praised the university's decision to start a SHRM club. It is one of 430 other colleges and universities with SHRM-affiliated chapters.

Brian Young, of Hyattsville, Md., a business administration major, said the club is "to provide SWU students with a way to gain knowledge of the human resources field." The club will meet monthly and provide students with experiential learning through local businesses. It will also feature human resources professionals as speakers and will sponsor business projects, Young said.