SWU couple serving in Colorado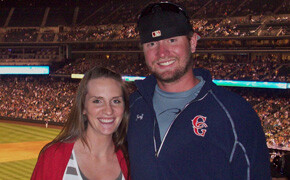 Luke and Abbie Sawyer are in the Denver area where Luke is starting work with Complete Game Ministries as a ministry associate. He is involved in outreach in the South Denver metro area for the ministry, which uses baseball as a bridge to share the good news of the gospel with a largely-unchurched population.
Luke coached two different teams during the summer and will coach another team this fall. Abbie recently started work at Open Door Ministries as a part-time preschool teacher. Open Door reaches out to needy persons in the Denver area. Luke and Abbie attend Mission Hills in Littleton, Colo., as well as Open Door Fellowship in Denver. Also, they are expecting a baby in October. Luke is a recent religion graduate and Abbie graduated with a specialized major in exercise science.