SWU dedicates new baseball facility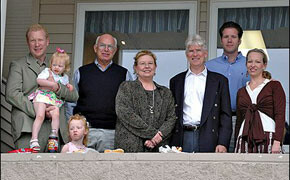 Southern Wesleyan University dedicated the Ralph W. Alexander Presidential Suite on April 8 at the university's Dr. C. Keith Connor Baseball Field.
The presidential suite includes a climate-controlled viewing area and private box seating. The improved baseball facility also includes restrooms, a concession area and a press box. Above, family members of Ralph Alexander celebrate the dedication of the new suite. From left, are Ralph Alexander's grandson Al Shadwick, Shadwick's daughters Megan and Isabella, SWU President David Spittal, Ralph Alexander's daughter Angela Shadwick, her husband Jack Shadwick, their son-in-law Clay Duble and their daughter Natally Shadwick. The Shadwick family sponsored the presidential suite.
The improvements at Dr. C. Keith Connor Baseball Field at Southern Wesleyan University were a cooperative effort among the university, the City of Central, the City of Clemson and local business leaders. Partners in the project, from left, are Clemson City Councilmember Butch Trent, Clemson Mayor Larry Abernathy and SWU President David Spittal. On the second row are Bi-Lo Manager Ron Duncan, Former Central City Administrator Herb Thompson and Clemson City Administrator Rick Cotton.