SWU donates to food bank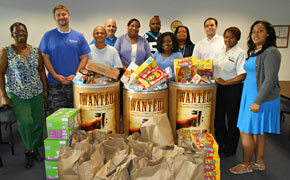 SWU MBA students gathered much-needed donations for the Lowcountry Food Bank. They are, from left: (front) Vivian Pinckney, Daniel Pach, Michael Gage, Carol Allen, Konita Reid, Greg Joyner, Lashaunda Chaplin, Monique Frasier, (back) Daniel Finnegan, James McFadden and Jessica Scott.
SWU Charleston's Student Services and Enrollment Department held a food drive benefitting the Lowcountry Food Bank.
Many children are fed through the school breakfast and lunch programs during the school year and go hungry during the summer months. A competition was held the months of June and July to see which class/cohort donated the most non-perishable food items. Enrollment Services waived the application fee for new students made a donation. The winning cohort (pictured here) was CHMBA 0058. They were recognized with a pizza party. The cohort donated 459 of the 702 items donated. In addition to the food donation from the students in Charleston, an outside anonymous donor contributed another $305 worth of items in support of the local campaign.