SWU event highlights Upcountry family history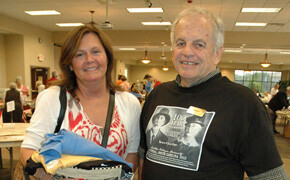 When Barbara Daly, left, of Chicago traveled to the 100-Year Reunion of Upcountry Families June 22 and 23 at Southern Wesleyan University, she expected to learn more about her family's southern roots, but made an unexpected discovery. Kenny Blakeney, right, of the Birchwood Center, wears a shirt bearing an old photo of Spencer and Josie Roper. Daly learned that Josie was the brother of her great-great-great-grandfather, George Riley Gilstrap.
The reunion attracted more than 200 visitors from across South Carolina and more than a dozen states. It was sponsored by the Birchwood Center for Arts and Folklife, along with Southern Wesleyan University, the Old Pendleton District Genealogical Society, the Pickens County Historical Society, the Pickens County Museum of Art and History, the Central Heritage Society and the Pendleton Historic Commission.