SWU graduate helping others 'break the cycle' as she has
Nadine Carmon established Recycled Love Thrift Store in North Charleston, whose proceeds to support a shelter she hopes to develop for dislocated families.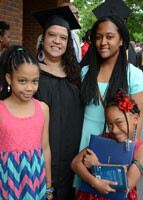 Nadine Carmon celebrates receiving her master of science in management degree with her daughters Aysha, Ayvia and Ayjah May 10 during spring commencement. She earned her bachelor's and master's degrees at Southern Wesleyan University's Charleston learning center.
Nadine Carmon, a recent graduate of Southern Wesleyan University's adult evening program in Charleston, wants to help others break a vicious cycle of addiction, just as she has.
Carmon, who has overcome 21 years of crack addiction, is working toward a goal of creating a homeless shelter where dislocated families can stay together. As part of this goal, she established the Recycled Love Thrift Store in North Charleston, where proceeds go to support the shelter. Looking back on a 1998 imprisonment and a 2005 experience at a homeless shelter for single women, Carmon sees how God is using her experiences to reach out to others in need of a shelter where every family member can be together.
Carmon established the Break the Cycle Foundation, a Christ-centered organization whose primary mission is to focus on helping homeless, dual-parented families permanently break the cycle of learned helplessness, generational welfare and dependency as it assists couples and their minor children in transitioning from homelessness to independent, self-sufficient lifestyles through life skill training, service work and accountability. At the same time, she wants to see others break out of a cycle of helplessness brought on by their negative circumstances.
"There's a term that's called learned helplessness, and basically it's 'coming up against the wall.' You come up against the same wall many times and the wall doesn't move. You get frustrated. Finally the frustration leads to 'I'm not going to try this anymore.' We try to encourage these families, individually and as a unit, that you can break this cycle. But, you've got to be taught," Carmon said.
Carmon, who received her bachelor's degree in business administration and master of science in management degree at Southern Wesleyan University's Charleston learning center at 4055 Faber Place Drive, appreciates the Christian atmosphere of the classes and the Christian-based ethics demonstrated by her professors. She feels that her education helped her to put together a business plan oriented towards the nonprofit organization she has been building and she has gained valuable written communication skills.
Find out more about Break the Cycle Foundation through their website at www.breakthecyclefoundation.us or call Carmon at (843) 212-3949. The thrift store is located at 1455 Remount Rd., Unit B, in North Charleston.
With regional education centers conveniently located across South Carolina, as well as fully online programs for select degrees, Southern Wesleyan University is a Christ-centered, student-focused learning community devoted to transforming lives by challenging students to be dedicated scholars and servant-leaders who impact the world for Christ. For details about degree programs, visit swu.edu.