SWU graduate receives Milken Educator Award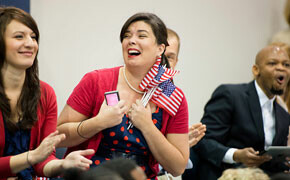 Shasta Looper, center, a SWU graduate and fourth-grade teacher at A.J. Whittenberg Elementary School in Greenville County School District, reacts as her name is announced as winner of the 2012 South Carolina Milken Educator Award. (Milken Foundation photo)
Shasta Looper, a fourth-grade teacher at A.J. Whittenberg Elementary School in Greenville County School District and a Southern Wesleyan University graduate, received the 2012 South Carolina Milken Educator Award.
During a school assembly Nov. 12, Looper was surprised with the $25,000 award and received applause from faculty, staff, students and State Superintendent of Education Mick Zais.
When Looper sat in the assembly with her class, she realized someone would be presented with the Milken Award. At her former school, her principal and instructional coach had won the award, so she knew it was an extraordinary honor.
"My heart started beating because it was the Milken Foundation Award. I knew someone would have a life changing moment," she said. As she prepared to take pictures, the winner was named.
"When they said my name, it took my breath away. It was such a big shock," Looper said.
The Milken Educator Award recognized Looper for her ability to communicate effectively with students, parents, community members and legislators. Looper has taught for 13 years and is also a Greenville County Teacher of the Year finalist.
Enrolled at Southern Wesleyan's Greenville location, Looper received her master of education degree in 2008.
"The SWU School of Education prides itself on the leadership demonstrated by its graduates. Shasta Looper has been recognized by the Milken Foundation and by the state as a leader among her peers and we are very proud and honored to be associated with her," said Dr. Paul Shotsberger, dean of Southern Wesleyan's School of Education.
Hailed as "The Oscars of Teaching" by Teacher Magazine, The Milken Educator Award is presented to recognize the accomplishments and potential of educators in early to mid-career. For more than 26 years, the Milken Foundation has honored more than 2,500 teachers, principals and specialists with over $63 million in awards.