SWU hosts human trafficking awareness event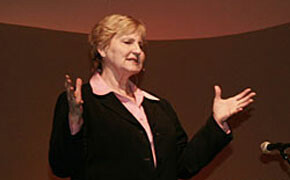 Dr. Jo Anne Lyon was at Southern Wesleyan University in Central, S.C., where she shared alarming facts and figures about human trafficking.
Lyon is board chair and founder of World Hope International. She is also an author, licensed professional counselor and is the first female general superintendent of The Wesleyan Church.
At left, Jeremiah Crosby, a sophomore at Southern Wesleyan University from Anderson, hands out valentines to attendees of the presentation on human trafficking, in appreciation for their taking time out on Valentine's Day to remember the millions who are exploited around the globe. This illicit trade represents a multibillion-dollar business where as many as 55,000 women and children are shipped into the United States.
Worldwide, an estimated 27 million people are enslaved.
The purpose of the Feb. 14 presentation at the university's Newton Hobson Chapel and Fine Arts Center was to heighten awareness of this global issue and to emphasize that victims of human trafficking are precious in God's sight. The event was co-sponsored by Southern Wesleyan University and First Wesleyan/ALIVE in Central, S.C.