SWU hosts Warrior Open at Cross Creek Plantation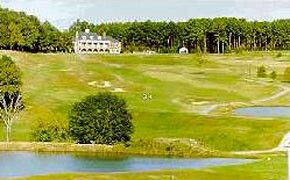 The Southern Wesleyan University Warriors will take up their clubs for a good cause on May 5.


The SWU Athletic Department and the university's Warrior Club will host the Warrior Open golf tournament at Cross Creek Plantation in Seneca, encouraging Warriors and area participants to swing their golf clubs to raise money for the university's student athletes.

"We are quite pleased to offer this golf tournament in partnership with Jack Shadwick and his course at Cross Creek Plantation. The Warrior Open gives the Warrior Club and the SWU Athletic Department another opportunity to raise additional funding to support our student athletes." said Chris Williams, assistant athletic director at Southern Wesleyan University.

The day will begin with check-in at 7:30 a.m. and a 9 a.m. shotgun start. After the players complete the course, an awards luncheon will follow.

Awards will be: first place team: four $100 gift cards to Dick's Sporting Goods, second place team: four $50 gift cards to Dick's Sporting Goods and third place team: four $25 gift cards to Dick's Sporting Goods. There will be $100 Gift Cards to Dick's Sporting Goods awarded for the longest drive and straightest drive. Three closest to the pin prizes include a Jay Haas autographed Ping golf bag, a Dunlop Super Loco driver and a Dunlop Tri-Vecta putter. A contest hole will feature a set of Dunlop Loco irons for the winner. Auction items for the event include a set of Dunlop Redneck irons, a round of golf for four at Cross Creek Plantation, an autographed Tommy Bowden football and more.

Corporate sponsors include: Custom Design Mouldings, Aramark, Vulcan Materials, Cross Creek Plantation, the NCCAA and SunTrust Bank.

The Warrior Open raises funds to support the student athletes of Southern Wesleyan University and provides a day of recreation for SWU alumni, friends and the local community.

For details, call Williams at (864) 644-5301 or e-mail .