SWU inducts new Alpha Chi members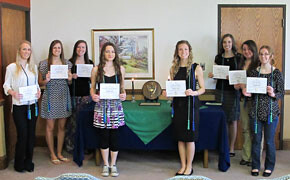 On March 21, Southern Wesleyan University inducted 14 new members into the S.C. Delta chapter of Alpha Chi, a national honor society that promotes academic excellence and exemplary character.
Founded in 1922, Alpha Chi membership is limited to the top 10 percent of the senior class and the top 5 percent of the junior class.
This year's inductees are, from left: Courtney Elizabeth Glenn, a history major from Greenville; Hannah Ellen Covington, a religion major from Harrisburg, N.C.; Kaylee D. Frazier, a religion major from Colfax, N.C.; Chelsi Esther Evangeline Stevenson, a pre medicine/pre dentistry major from Whitmire; Caroline Grace Hudson, an elementary education major from Pickens; Sydney Blake Fletcher, an exercise science major from High Point, N.C.; Grace Elisabeth Eckert, a biology major from Dallas, Ga.; and Jenna Marie Doud, an English major from Lithia, Fla. Inductees not pictured are Mary Grace Carter, a criminal justice major from Easley; Sarah Marie Gray, a music education major from King's Mountain, N.C.; Hayley Hoover, a special education major from Clemson; Caroline Elizabeth Martin, an elementary education major from Clemson; Abigail McDonald, a specialized major from Tega Cay; and Kimberly Moore, a media communication major from Effingham.