SWU mourns Warren's loss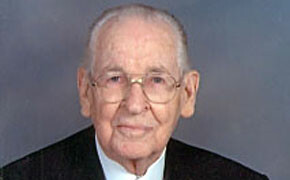 Rev. Frank Weston Warren
Rev. Frank Weston Warren passed away June 1 at age 99.

Warren, who was born April 29, 1911, was Southern Wesleyan University's oldest known alumnus.

He was born at Fort Payne, De Kalb County, Ala. to William Weston Warren and Anna Belle Warren.

Warren married Miriam Cude on December 29, 1938, who passed away Aug. 4, 1996. On April 9, 1997, he married Bula Newton Harden, who passed away Jan. 23, 1999.

Warren is a 1936 graduate of Southern Wesleyan, which was then known as Wesleyan Methodist College. Warren also attended Indiana Wesleyan University in Marion, Ind., obtaining a bachelor's degree in 1944. He finished his licensing and course of study in the United Methodist Church, and on June 12, 1960, was ordained an elder in the Kansas East Conference. In 1965 he completed the U.S. Army Chaplain School's Advanced Course at Fort Hamilton, N.Y.

Warren served as a chaplain in the United States Army with 26 years of commissioned service from 1945 until 1971. While in military service, he was transport chaplain on the Atlantic (1945); assistant post chaplain at Fort McClellan, Ala. (1946); chaplain in Korea (1951-1952); finance chaplain, Tokyo, Japan (1952-1954); post chaplain, Redstone Arsenal, Huntsville, Ala. (1954-1956); post chaplain, 2nd Armored Division Baumholder, Germany (1956-1957); Chaplains Advanced School (1965); and reserve duty chaplain at the 109th Army Hospital in Topeka, Kan. Warren retired from the military in 1971, holding the rank of Lieutenant Colonel.

Warren came to the Topeka area in 1957 as minister of the Oakland and Grantville United Methodist Churches, where he served until 1968. He was then minister for the Pleasant Hill United Methodist Church from 1968 until he retired from the ministry in 1976.

Warren also served as president of the North Topeka Kiwanis Club from 1974-1975, lieutenant governor of the Kansas District Kiwanis from 1978-1979 and was recognized by Kiwanis International as a distinguished lieutenant governor.

Warren is survived by his son, William Weston Warren, and wife Sharon, of Central, S.C.; his son, Stephen Frank Warren, of Seattle, Wash., and daughter-in-law Barbara Warren, of Overland Park, Kan. He is also survived by grandson, Bradley Warren, and his companion, Wendi Russell, of Topeka, Kan.; granddaughter, Lisa Parnell, and her husband Jonathan, of Lawrence, Kan.; and three great-grandchildren, Jacob, Anna, and Brandon Parnell.

Warren will lie in state after 3 p.m., Wed., June 16 at the Penwell-Gabel, Mid-Town Chapel, 1321 SW 10th Ave, Topeka, Kan., where the family will receive visitors from 6 - 8 p.m. Friends are also invited to a memorial service June 17, at 11 a.m. at the funeral home. Military honors will be conducted by Fort Riley Funeral Detail. Private burial will be at Rochester Cemetery in Topeka, Kan.

To leave a message for the family online, visit www.PenwellGabel.com. In lieu of flowers, the family requests donations to the Frank W. and Miriam C. Warren Endowed Memorial Scholarship at Southern Wesleyan University. Send designated checks payable to Southern Wesleyan University in care of the Development Office, P.O. Box 1020, Central, SC 29630-1020, For details, contact Rev. Jim Wiggins at (864) 644-5013 or e-mail .