SWU part of God's leading for Boyce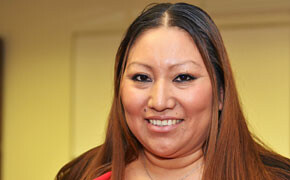 A passion for helping others is what drives Sandra Boyce.
Graduate's family fled civil war in search of a new life
A passion for helping others is what drives Sandra Boyce.
Boyce is receiving her bachelor's degree in human services during winter graduation exercises Dec. 14 at Southern Wesleyan University in Central.
Boyce, who works for Greenville Health System's OB/GYN clinic as a physician practice specialist (Patient Registration) and part-time in a case management role, attended Southern Wesleyan's Greenville education center at 84 Villa Rd.
Education and faith are both values instilled into Boyce's family from a young age. She remembers the importance of trusting in God early in childhood as part of a large family living in El Salvador.
"I never had toys, never had a bicycle, anything like that," she said. "We would actually walk miles just to go to a church."
Boyce, whose maiden name is Perez, is among seven children who fled El Salvador in 1989 when the Central American country was in the midst of a civil war. The conflict was tragic for her family members, resulting in the killing of her father, who was in the army. Her uncle was also killed.
"My mother fled El Salvador in 1980, and by 1989 she had already processed the legal documents to bring us to the United States as legal residents," Boyce said.
Boyce and other family members came to the United States and started a new chapter of life in New York City, where she attended school and went on to Briarcliffe College. From New York, she and her two children moved to Charlotte, then to Miami. Desiring a better community to raise her family, she moved to Greenville.
Boyce initially sought to become a speech pathologist, but said God was leading her in a different direction.
"Everything seems to be pointing toward social work. I don't make a lot of money, but it's something I actually love to do. It feels great that I am helping someone," she said.
Boyce gained confidence in her communication skills through a public speaking class at Southern Wesleyan. She is also grateful for the writing skills she has refined, feeling this helps her not only on the job but also for graduate studies she's planning in the future.
"I really love the fact that it is a family-oriented, Christian-based school and I think that's something that will actually benefit me," she said.
With regional education centers conveniently located across South Carolina, as well as fully online programs for select degrees, Southern Wesleyan University is a Christ-centered, student-focused learning community devoted to transforming lives by challenging students to be dedicated scholars and servant-leaders who impact the world for Christ. For details about degree programs, visit swu.edu.