SWU prepares for May 2014 graduation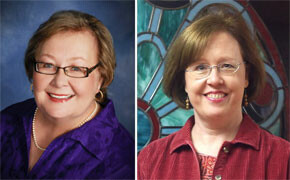 Beverly S. Patnaik, left, academic director of the School of TransformAging at Lipscomb University, will be the May 2014 graduation speaker. Tamara Flinchum, right, of AnMed Health's department of Spiritual Care, will be the Baccalaureate speaker.
VIDEO
Southern Wesleyan University graduates, their family members and friends will gather at the university's campus in Central on May 9 and 10 for two commencement ceremonies.
The speaker will be Beverly S. Patnaik, academic director of the School of TransformAging at Lipscomb University. The School of TransformAging provides an opportunity to purposefully impact the leaders in aging services as they prepare for the future.
A Southern Wesleyan graduate, Patnaik is a gerontologist with more than 30 years of experience in the field of aging issues. Patnaik's passion for improving the quality of life for older adults has been her mission during her career. She currently serves as president of the Council on Aging of Greater Nashville, is past chair of its Leadership Council, is on the Advisory Board of the Martin Center, Brentwood, Tenn., and teaches kindergarten and first-grade in Sunday School.
Patnaik's career has been devoted to academics and community services. She has served as executive director of the Charlotte-Mecklenburg Council on Aging, as well as assistant director of services for adults at the Department of Social Services in Charlotte. She has also served on the faculty at University of North Carolina-Charlotte, Central Piedmont Community College, Livingstone College and Duke University Medical School. Nationally, Patnaik was director of technical assistance for the community partnerships for older adults, a $25 million Robert Wood Johnson grant.
Patnaik received her BA in psychology from Southern Wesleyan University and her MA in studies in aging from the University of North Texas, Denton, Tex.
According to Rock McCaskill, the university's registrar, approximately 270 degrees will be awarded in two ceremonies.
Students graduating from the university's traditional program will participate in a ceremony at 3 p.m. Friday, May 9. Students graduating from the university's adult evening programs in all locations will participate in a ceremony at 3 p.m. Saturday, May 10. Both graduation ceremonies will be held in Newton Hobson Chapel and Fine Arts Center on the Southern Wesleyan University campus in Central.
For details, call Southern Wesleyan University's Academic Records Department at (864) 644-5530. Tickets, issued through the university, are required for those attending the May 10 ceremony. For guests without tickets, overflow seating is available, which will allow guests without tickets to view the ceremony via a closed circuit broadcast. Details are available at www.swu.edu/academics/academic-records/graduation/.
Other end-of-semester events at Southern Wesleyan University include Baccalaureate Chapel on May 9 at 10 a.m. in Newton Hobson Chapel and Fine Arts Center.
The baccalaureate sermon will be delivered by Tamara Flinchum. Ordained by the South Carolina District of The Wesleyan Church in 2008, Flinchum has been ministering in the department of Spiritual Care at AnMed Health for the past four years.
The daughter of Rev. and Mrs. Bill Flinchum, she grew up in parsonages in the North Carolina West District of The Wesleyan Church. Flinchum graduated from Southern Wesleyan with a BA in English education and taught at the university after graduating with a MA in English from Ball State University. Her teaching career continued as an English instructor at Clemson University and at Christian Evangelical Wesleyan College in Vladimir, Russia.
After returning from her years in Russia as a missionary, Flinchum felt called to the chaplaincy as she sat beside the bed of her dying father. Earning a M.Div. from Candler School of Theology at Emory University, she completed her chaplain residency at AnMed Health in Anderson, and was board certified by the Association of Professional Chaplains in 2010.
With regional education centers conveniently located across South Carolina, as well as fully online programs for select degrees, Southern Wesleyan University is a Christ-centered, student-focused learning community devoted to transforming lives by challenging students to be dedicated scholars and servant-leaders who impact the world for Christ. For more information, go to www.swu.edu.