SWU programming team at regional competition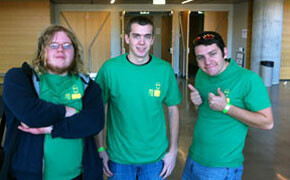 Timothy Hayduk, Bart Cone and AJ Danelz recently represented Southern Wesleyan University in the ACM SouthEast Programming Competition at Georgia Tech.
The Southern Wesleyan University computer science students competed against other institutions, including Georgia Tech, Clemson, Auburn, The Citadel and most of the other universities in the Southeast that offer computer science degrees. The SWU team solved two problems during the competition and were only one problem away from coming in third. This was the first trip SWU has taken to the competition.