SWU reaches NCAA campaign goal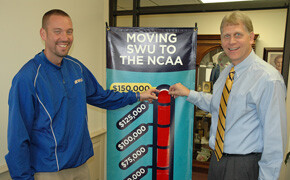 Chris Williams, left, Southern Wesleyan University athletic director and Dr. Todd Voss, university president, celebrate reaching the $150,000 fundraising goal of the NCAA campaign, reached through pledges and gifts.
As Southern Wesleyan University moves forward with efforts to better the quality of its athletic program, an important financial goal has been reached.
The university has raised the $150,000 needed to make the transition and apply for a NCAA Division II program through pledges and gifts of many supporters.
Chris Williams, athletic director at Southern Wesleyan, feels this is an important step in efforts to build its athletic program and improve the institution's visibility in intercollegiate athletics and enrollment. Williams is confident that the university will meet the Feb. 1 deadline for a required strategic plan and application.
Williams expressed gratitude to those who made reaching the goal possible.
"This show of support will only continue to move us in a positive direction as we seek conference sponsorship later this fall and as we make application to the NCAA II this coming February," Williams said.
"Reaching this campaign goal right now is wonderful. The timing is simply perfect," said Dr. Todd Voss, Southern Wesleyan University president. "We are positioned to now move forward with our overall athletic strategic plan, field expansion and new sport development at the same time we complete our NCAA application. Words cannot fully express our deep appreciation. All of this is possible due to the generous support of donors, alumni, current employees, board members and friends of Southern Wesleyan University."
For details about SWU athletics, visit www.swu.edu/athletics .