SWU recognizes outstanding graduates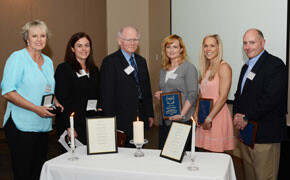 SWU honored its top alumni during the annual Alumni Awards Luncheon April 12 on the university's campus in Central. Recognized were (from left), Debbie Holcombe, Alicia Pratt Zorn, Gareth Lee Cockerill, Charity Prosser, Lindsey Torgerson, and Brian Swords.
Southern Wesleyan University recognized a group of graduates for their achievements that have already been recognized on state, national and international levels. They received awards during an annual alumni awards luncheon April 12 on the campus in Central.
Honored for their achievements were Gareth Cockerill, Lindsey Torgerson, John Atcheson, Joe Atcheson, Charity Prosser and Brian Swords. Also, SWU Athletics reaffirmed the dedication, accomplishments and passion for three Warriors by rededicating the retirement of their jersey numbers.
Gareth Lee Cockerill, a 1966 graduate, was named Alumnus of the Year. Cockerill received an honor unique among Biblical scholars when his commentary on Hebrews joined a celebrated commentary series, which for decades was the work of renowned scholar F. F. Bruce. Cockerill also contributed to several books, and also published articles and book reviews in publications about Biblical research, interpretation and missiology. He graduated from SWU with a history degree. He served as a missionary to Sierra Leone, West Africa, for three terms alongside his wife Rosa. Cockerill then joined the faculty of Wesley Biblical Seminary in Jackson, Miss., where he currently serves as vice president for academic affairs and professor of Biblical interpretation and theology.
Lindsey Torgerson, a 2009 graduate, received the Young Leader Award. She competes internationally as a member of Team USA, having earned a bronze medal Aug. 10 at the ITU World Championship in Ottawa, Canada. Torgerson also competed in the USA Duathlon National Championship, a qualifier for the 2014 World competition in Spain. While at SWU, she was a member of the 2007 NCCAA Championship Warriors Women's Basketball Team. Since her graduation from SWU, Torgerson has competed in endurance events, including the 2012 ITU Long Course Duathlon in Switzerland, where she won a silver medal. She is a fitness service manager with Gold's Gym International and recently landed a sponsorship with Dallas-based 2Quick Carbon Technology.
John Atcheson, a 2002 graduate, and Joe Atcheson, a 2006 graduate, both received the Professional Excellence Award from the College of Arts and Sciences. Both earned their pre medicine/pre dentistry degrees at SWU and earned doctor of dental medicine degrees from MUSC. After completing dental school, John worked at Keowee Family Dentistry and his brother Joe worked at Oconee Dental Associates. Joe also practiced dentistry at Eastside Family Dental Care in Anderson. In August, 2012, John and Joe came together and opened their own dental practice in Six Mile. The brothers both serve on the SWU Board of Visitors and have been consistent donors even during the years they were paying to go to Medical school.
Charity Prosser, a 2011 graduate who received the Professional Excellence Award from the School of Business, was put in charge of STAND (Stop and Take a New Direction), an innovative drug enforcement program focused on guiding local drug dealers into legitimate work. STAND caught the attention of NBC News, who sent Journalist Lester Holt in 2013 to interview Prosser and her partner for a special edition of Dateline. Currently a sergeant with the department, Prosser enrolled at SWU's Charleston learning center and earned her bachelor of science in management degree. She recalls valuable training that built in her confidence as she put together operations plans and SWAT (Special Weapons and Tactics) presentations.
Brian Swords, a 1995 graduate, received the Professional Excellence Award from the School of Education. He is currently campus director at the Easley Campus of Tri-County Technical College. He also serves as an adjunct professor at SWU, where he teaches education courses at the graduate level. He recently received Tri-County's Presidential Medallion for Staff Excellence and was also elected to the board of the School District of Pickens County. Swords has chaired the Easley Chamber of Commerce Board of Directors and is former president of the South Carolina Association of Continuing Education. He also became a member of the Alumni Board and the university's Board of Visitors.
Uzzie T. Cannon, a 1994 graduate who wore number 32 when she competed on the Women's Basketball Team, had her jersey number retired. An Appalachian State transfer, Cannon became an impact player who was a proficient scorer and rebounder. She led the Warriors to a significant 9-point victory over USC-Upstate, which was then ranked fourth nationally. Cannon finished her career as the all-time leading scorer with 1,453 points and as well as the all-time leading rebounder with 971. She was selected the Palmetto Conference Player of the year in 1992, and in 1993 was selected as the NAIA District 6 player of the year. Cannon was selected second team NCCAA All-American in 1994 and was inducted into the inaugural class of the Athletic Hall of Fame in 2005.
Deborah L. Holcombe, a 1987 graduate, had her volleyball jersey number 5 retired. Holcombe was a member of both the volleyball and softball teams. She led the volleyball team to the NCCAA National Championship tournament in 1985 and 1986 and was selected a first team NCCAA All-American in both 1985 and 1986. After graduating from SWU, she returned to the university in the mid 1990's as a faculty member and coach of the softball and volleyball teams. In 2005 Holcombe was inducted into the inaugural class of the Athletic Hall of Fame. She was named 2013-14 Teacher of the Year at James F. Byrnes High School, one of the state's largest high schools, where she teaches physical education.
Alicia F. Pratt Zorn, a 1995 graduate, had her softball jersey number 12 retired. Zorn was already a top-ranked volleyball and softball player when she came to SWU. During her time as a Warrior, she was a setter for the volleyball team, but her area of dominance was in softball. In her freshman year, she threw out 33 of 37 attempted base stealers. Zorn was named as second team NAIA All-American and first team All-American. Zorn was named the NAIA District 6 player of the year in 1992, co-player of the year in 1993 and player of the year in 1994. Zorn was inducted into the inaugural class of the Athletic Hall of Fame in 2005.