SWU sets record for incoming students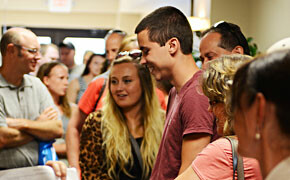 New students and family members check in Aug. 15 at Southern Wesleyan University in Central. The university experienced an influx of a record 265 new students.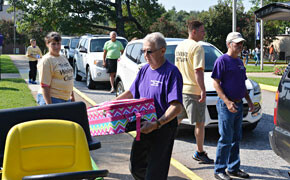 Volunteers from Trinity Wesleyan Church of Central assist the new students as they move into the residence halls. Also helping out were various groups of upperclassmen, including the university's Presidential Ambassadors and Sigma Delta members.
As the new academic year began, a record number of new students were lining up at check-in on the Southern Wesleyan University campus in Central.
Residence Life staff spent this past summer preparing for increased occupancy of residence halls and student apartments. On a warm Friday morning, cars, trucks and SUVs – even a U-Haul rental truck – lined Wesleyan Drive carrying a record number of new students and their belongings. Student groups, including Sigma Deltas, Presidential Ambassadors and student-athletes, were on hand to ease the move into residence halls, as were several members of nearby Trinity Wesleyan Church, who have volunteered their services for many years.
As of Aug. 21, Southern Wesleyan reported 265 new students and an overall headcount of 685, which includes full-time and part-time students. Last fall, the university started the year with a headcount of 597.
According to Joe Brockinton, vice president for student life, 400 students will be living on campus this year, up by 40 from last year this time. During the first week of class, Clay Bolton, a recreation and sport management professor, was seeking extra desks to put in a classroom filled with students. Most of the seats in the auditorium of Newton Hobson Chapel and Fine Arts Center were filled as the university held its opening convocation this past Wednesday.
Chad Peters, vice president for enrollment management, believes offering relevant academic programs, having a faculty engaged in the recruitment process alongside the university's enrollment team, making widespread improvements to campus facilities, offering new scholarships and expanding athletic programs are key factors driving the growth. These new degree programs are experiencing growth, according to Peters, and the Fine Arts program is benefiting from a new music ensemble scholarship.
A block of student apartments was extensively renovated, with updates that include a community area complete with new exercise machines, TVs and improved laundry facilities. A new coffee shop, Blue Hill Coffee and Tea Co., and the Warrior Court, a new sports-themed snack shop, anchor an inviting new gathering area within the Jennings Campus Life Center.
New and returning student-athletes are seeing changes as well. Walden Tysinger gymnasium has a new look that reflects the changes in athletics as the Warriors begin competition as a new member of Conference Carolinas in NCAA Division II. The Warriors soccer teams will take to a new practice field, located within the Joe R. Gilbert Track and Field. The cross country course has been totally revamped, something that Athletic Director Chris Williams says will heighten interest in the local running community, as well as the local high school cross country teams. Also improved is the playing surface of the Dr. Keith Connor Baseball Field and site preparation has been done for a future USTA-designed tennis facility.
Peters maintains that such improvements make a positive impact on the university's efforts to recruit and retain students. He adds that moving athletics into the NCAA has helped recruitment efforts.
The key factor, Peters noted, is Southern Wesleyan's continued commitment to Christian values.
"Students are seeking colleges across the state and the country that are providing instruction from a Christian view that is based on ethical standards and values," he said. "They are filling a gap that is desperately needed in society today."
Southern Wesleyan University is a Christ-centered, student-focused learning community devoted to transforming lives by challenging students to be dedicated scholars and servant-leaders who impact the world for Christ. For details about degree programs, go online to swu.edu.