SWU Softball Takes Time to Lend A Hand at Rabbit Hill Farm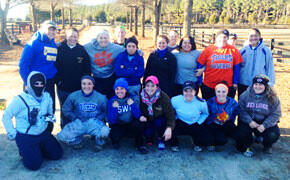 The Southern Wesleyan softball team recently took time from preparing for the upcoming season to give back to the community by serving at the Rabbit Hill Farm in Pendleton.
Twenty members of the team recently spent over six hours painting miles of fence line for the facility that boards dogs and rehabilitates horses. Rabbit Hill Farm also has one of the only indoor horse riding rinks in the area.
The team used 50 gallons of paint to re-paint the fence line, completing over 75 percent of the fencing before running out of paint. The farm's owner, Andy, lives by herself and manages the property on her own and re-paints the fencing every five years, normally taking months to complete.
Head Coach Anna Ball and the Warriors will begin the season on February 21 at Milligan College. The Warriors open at home on March 7 against Coastal Georgia.
Follow the softball team online.