SWU staff take part in challenge raising ALS awareness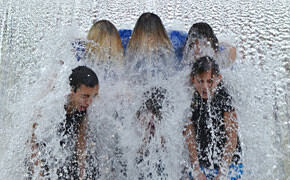 When SWU's admissions staff was challenged to take part in the ALS Association's Ice Bucket Challenge, they took things up a notch with a little help from the university's grounds crew.
In the Ice Bucket Challenge, which has gone viral on social media, people are taking videos of ice water being dumped on their heads, then posting in social media and challenging friends to do the same within 24 hours or make a donation. The challenge is raising awareness and support for the ALS Association in their fight against the illness known as "Lou Gehrig's Disease." Pictured from left (front) are Jared Trudel, admissions counselor; Donna Wood, office manager; Stephanie Rodriguez, admissions counselor; (back) Melissa Vess, assistant director of admissions; Amanda Young, director of admissions; and Emily Bloxdorf, admissions counselor. Operating the front-end loader is Byron Shirley, landscape manager. As of Aug. 21, the ALS Association raised more than $40 million in overall donations. Details and updates can be found on alsa.org.
Southern Wesleyan University is a Christ-centered, student-focused learning community devoted to transforming lives by challenging students to be dedicated scholars and servant-leaders who impact the world for Christ. For details about degree programs, go online to swu.edu.