SWU student directs Norris recreation program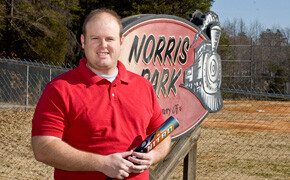 Chris Vann
Being a husband, a father of five and a full-time student at Southern Wesleyan University, Chris Vann has a lot of responsibilities.

Now, Vann has a new responsibility – athletic director for the town of Norris.

Falling in love with the Upstate after visiting for a wedding, the Vanns decided four years ago to relocate from their home in Jacksonville, Fla., to Liberty, S.C. He turned to Southern Wesleyan University to pursue his new career goal of becoming certified as a physical education teacher. Vann is majoring in physical education with a minor in athletic coaching. After graduating from Southern Wesleyan, Vann hopes to pursue a master's degree in physical education.

"I graduated from Florida State in 2001 and worked all over Florida, but I always felt that working with kids and teaching sports was what I wanted to do," Vann said. To have a university close to home that offers the ideal degree program for him was a factor in his choosing Southern Wesleyan.

"From what I heard, Southern Wesleyan University has great reputation, quality education and is well-prepared and nationally recognized. So I decided to come here," Vann said.

"My wife and I have played sports our whole lives and I've been coaching for about five years," he said. Vann has experience coaching t-ball, football and basketball. A friend of Vann's, who is the fire chief of Norris and Liberty, recently contacted him about the opening for a recreation director.

"They asked me about it, I got my resumé and the mayor decided to hire me as the new recreation director," Vann said.

Vann is excited about what the new recreation program can provide for Norris and the surrounding communities of Cateechee, Six Mile and Central. With enough youngsters signed up, Vann's goal is to have a quality youth baseball team as part of the town's recreation program. But Vann understands that there is more involved than just learning the rules of the game.

"Our goal is to put kids first, to help them understand sports and to have fun," Vann said. "I want our kids to play sports because they want to, not because they are forced by their parents."

Vann added that another challenge is to keep the young ball players motivated during the one to two hours they spend on the field.

"SWU really assists me in understanding about the focus of coaching, and how to motivate kids in a better way," Vann said.