SWU students, alumni part of Haiti missions relief team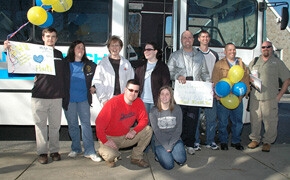 Two Southern Wesleyan University students and four alumni were among a 14-member missions relief team that left for Haiti Jan. 27 on a nine-day trip to deliver medical supplies and provide medical treatment to earthquake victims. Pictured from left, standing, are Brandon Bryant, Michelle Bryant, Debra Louise Hennessy, Stephanie Sestito, Daniel Stanley, Greg Edmonds, Ralph Kelley and Tommy Stanley. Kneeling in front are Joel Barrington and Kelsey Buchanan. Not pictured are Marie Yves Brillant, Pat Burdette, Edner Charles and Fritzlene Gilles.
They had been planning a mission trip to Haiti for several months. But the Jan. 12 earthquake that unleashed death and destruction on the poor island nation gave the mission a new urgency.
The team, led by SWU alumnus Greg Edmonds, left from the Southern Wesleyan University campus in Central on a bus bound for Atlanta, where they would fly to Miami, then on to Santo Domingo in the Dominican Republic. After a six-hour drive from Santo Domingo to reach an area near Port au Prince, they are being joined by a surgical team from Ohio. The top priority for the mission relief team is to provide immediate treatment of the earthquake victims' injuries.
The South Carolina District of The Wesleyan Church is sponsoring this medical relief team and has collected more than $20,000 in donations and supplies for the disaster relief efforts. The team was able to limit personal luggage and carry 29 boxes with medical supplies, weighing 1,950 lbs. On the team are two current SWU students: Kelsey Buchanan, a pre-med major; and Stephanie Sestito, a forensic science major. SWU alums in addition to Edmonds are Fritzlene Gilles, Michelle Bryant and Daniel Stanley. Joel Barrington is the husband of SWU alum Kelly Barrington. The team also includes five nurses and three first responders, four members that are bi-lingual.
Three of the nurses are Haitian. The youngest member of the team, Brandon Bryant, is a D.W. Daniel high school student and son of Joy Bryant, Southern Wesleyan's executive director of alumni and constituent relations.