SWU students, alums part of missions relief team helping Haitians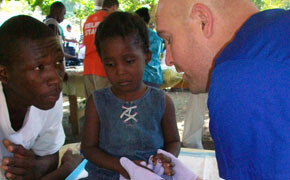 Southern Wesleyan alumnus Daniel Stanley treats a Haitian girl at a clinic set up in Petit-Goâve, a town located near Port Au Prince, Haiti.
Two Southern Wesleyan University students and four alumni were among a 14-member missions relief team that left for Haiti Jan. 27 on a nine-day trip to deliver medical supplies and provide medical treatment to earthquake victims. The team, led by SWU alumnus Greg Edmonds, assisted another medical team in providing immediate treatment of the earthquake victims' injuries. On the team were two current SWU students: Kelsey Buchanan, a pre-med major; and Stephanie Sestito, a forensic science major. SWU alums, in addition to Stanley and Edmonds, were Fritzlene Gilles and Michelle Bryant. Also on the team was Joel Barrington, husband of SWU alum Kelly Barrington. The youngest member of the team, Brandon Bryant, is a Daniel High School student and son of Joy Bryant, Southern Wesleyan's executive director of alumni and constituent relations.
The team's work in Haiti is also featured in a news release from world headquarters of The Wesleyan Church. Read more >>