SWU students gear up for new academic year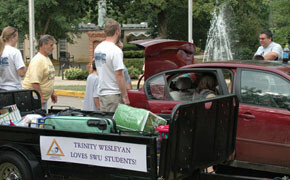 Members of Trinity Wesleyan Church assist new Southern Wesleyan University students with their belongings as they move into Stuart Bennett residence hall on the university's campus in Central. The students began moving in on Aug. 14.
Southern Wesleyan University students are preparing for a new school year.

New student orientation began on Aug. 14, with most students moving back to campus on Aug. 16 and 17. Enrollment day is Aug. 18, with classes starting on Aug. 19.

Orientation is the most exciting time of year for any university across the country. It represents the start of a new year with new students and new expectations. It is the merging of the old with the new," said Samantha Wilson, associate vice president for Student Life. "New students are transitioning from high school or transferring from a completely different institution and returning students are embarking upon the next phase of their journey towards graduation. It is a great time be at Southern Wesleyan University!"

The university is expecting about 165 freshmen and nearly 70 students transferring to Southern Wesleyan from other institutions this fall, according to Amanda Young, director of admissions. Total enrollment at the university is about 2,700.

These students are from all over the world including Africa, Venezuela, Canada and across the United States. Most of our incoming freshmen are from the Southeast," Young said. "Southern Wesleyan University offers students the opportunity to discover their God-given potential in a Christian community with challenging academics, empowering students to live out God's unique plan for their lives."

Students are drawn to the university because of its academic excellence as well as its focus on developing students' spiritual potential. Student life at Southern Wesleyan includes activities on the campus in Central, as well as opportunities to enjoy the recreation in the Upstate.

Our students enjoy a variety of on-campus activities like Student Missions Fellowship, IGNITE, Skit Night, discipleship groups and so much more. Plus, when it comes to location, it doesn't get any better than SWU," Young said. "The natural beauty of the Upstate is home to many natural recreation opportunities such as mountain biking, white water rafting, camping and hiking."

Students returning to the campus will find a new fine arts and chapel building open and ready for events. Newton Hobson Chapel and Fine Arts Center encompasses 47,000 square feet and seats 1,200. The building includes an auditorium with a balcony, as well as music classrooms, practice rooms, faculty and spiritual life staff offices and a two-story rehearsal hall.

Newton Hobson Chapel and Fine Arts Center is a $6.4 million structure and the university is completing fund-raising efforts for the $1 million needed to for furnishings.

"Our prayerful goal is to dedicate this facility debt-free in October," Rev. James Wiggins, vice president of development, said. "A tremendous celebration is being planned October 23 and 24 at the time of the fall Trustee Board meeting. Hundreds of friends, alumni, friends in businesses and students are expected to join in the great celebration of praise and thanks to the Lord for the fulfillment of a dream that has been in the hearts of so many for several years."

Southern Wesleyan University's mission is to make men and women all that God intends them to be. The university offers 36 areas of study, as well as four graduate programs.

Southern Wesleyan University's main campus is in Central, and classes are offered in Columbia, Greenville, Greenwood, Spartanburg, North Augusta and Charleston. The university was founded more than 100 years ago by leaders who promised to "help men and women become what God has designed them to be."

Southern Wesleyan University prepares students for leadership and graduate study in such fields as business, education, religion, music, medicine, law, religion and a variety of civic and social service professions. Southern Wesleyan offers graduate degrees in the areas of business, management, education and ministry.