SWU students inviting grandparents to experience campus life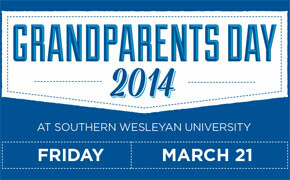 Southern Wesleyan University students are inviting their grandparents and special guests to visit the Central campus for a memorable, activity-filled day.
Grandparents Day, planned for March 21, will be a time for making family connections while getting a taste of campus life, sharing meals with grandchildren, touring the historic campus and taking in a ballgame or a musical show. There will be plenty of opportunities to enjoy free time together and several activity choices on that day
Highlights will include a special welcome message from University President Todd Voss and a chapel service for grandparents, students and their special guests, where the University Singers will minister in song. It's a day for grandparents to make new memories with family photos, to visit classes and see firsthand their grandchild's campus home. They can also take advantage of discounts at the University Bookstore, as well as participate in an informative estate planning seminar.
Grandparents and their grandchildren can enjoy "Narnia," a student musical, at Folgers Fine Arts Auditorium. Also, the Warriors Baseball Team will play Southern Polytechnic State, 6 p.m. at Connor Field.
For details about Grandparents Day, contact Lisa McWherter at (864) 644-5013 or email for details.